Postgraduate Non-Medical Prescribing
The NMP e-learning resource was developed by combining the expertise of 5 Universities including: University of Bolton, University of Central Lancashire, University of Chester, University of Cumbria and University of Salford.
It was commissioned by Health Education England to improve consistency and raise the standard of NMP teaching. Universities from all over the UK are now accessing this resource which is maintained by the Health and Education Co-operative.
Content
Our NMP resource content reflects all NMP professional body requirements and includes the following 12 key modules:
NMP Overview
Scenarios
Pharmacology
Legal and Professional Frameworks
Professional Accountability and Responsibility
Clinical Governance and Evidenced Based Practice
Consultation and Communication
Factors that Influence Prescribing
Decision Making
Prescribing Safely, Appropriately and Cost Effectively
Prescribing in Multi-professional Teams
Response Monitoring
Public Health
Continuing Professional Development
If you are a university lecturer and want to explore how your students could benefit from access to this professionally developed resource, please click here.
How do Universities use the NMP e-resource?
The resource is used as part of a blended learning NMP qualification, where up to 60% of the course is completed on-line. With the remainder of teaching taking place in the university in line with their own timetabling requirements.

Students are given ongoing access to the resource post their course completion.
How is the system administered?
Universities provide the Health and Education Co-operative with a list of email addresses for students. These can be bulk uploaded within minutes and students sent a link with their individual log-in details.
System support is provided to students.
How do lecturers use the resource?
The resource can be referred to within the lectures, or students can be asked to complete specific modules in a set time period.
Students can be requested to provide completion receipts relating to sub-sections below the modules (i.e. they can be asked to complete the pharmacokinetics resource and quiz within Pharmacology).
Lecturers can use the reporting function of the resource to see who has completed what modules.
The HealthVLE will display your University branding and colours.
How do students use the resource?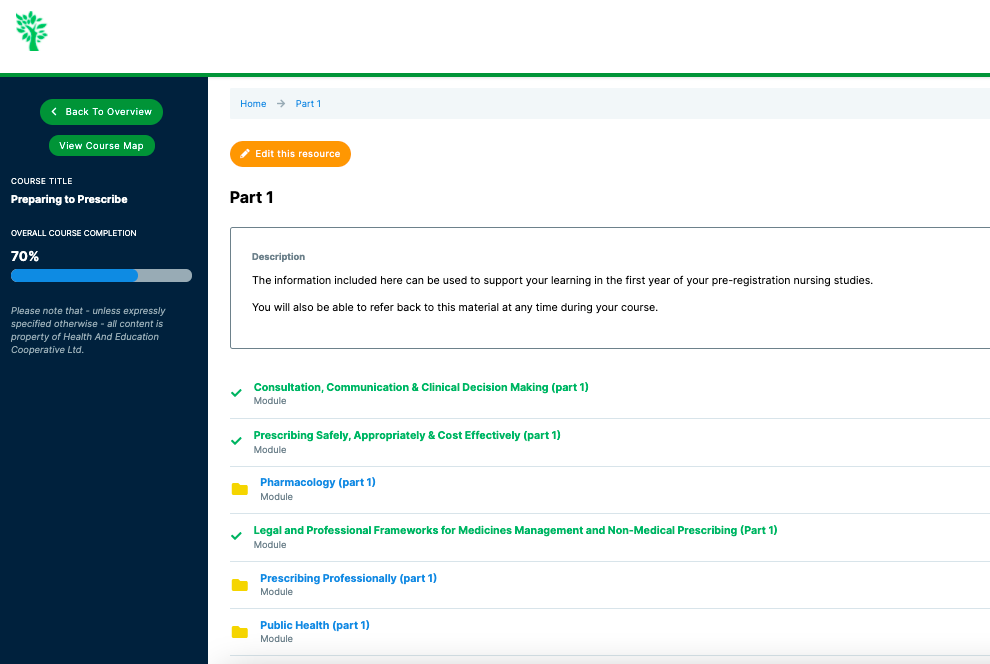 Students can use the resource like an on-line text book, and work through the modules and units. Once they have read and completed a module it will show up with a tick.
They can take the quizes at the end of the modules to check their understanding.
Self-print certificates can be printed and used as evidence in portfolios.
What is the cost?
Less than the price of a book per-student.
For more information contact Jo Tate.
Free trials are available