How do I register students for an e-learning course?
Send a list of students through on a spreadsheet. You need to include their name and email address. Please take care and ensure that that the email address is correct, as the student will not receive the access link.
Send an excel spreadsheet to: support@hecooperative.co.uk
Please allow 48 hours.
What do I do if a student informs me they can't access the modules?
Check that you have provided us with the correct email address. Send a support ticket in providing us with the name of the course, name of the student and their email address.
What do I do if a student is having difficulties with the course?
Ask your students to complete a support ticket on-line. They need to be as specific as possible: where or what the issue is – the exact unit name, quiz title etc.
Contact the Health and Education Co-operative Manager, if more than one or two students come to you with the same issue: Joanna.tate@hecooperative.co.uk.
How can I check which students have completed the modules and or course?
1.View this information on-line
Click on 'Active Course Management' . Identify the course, then click on 'View Report'. This will bring up a table with the list of modules across the top, and the names of your students down the left hand side.
Green = completed
Yellow= started but not complete
Blank = not started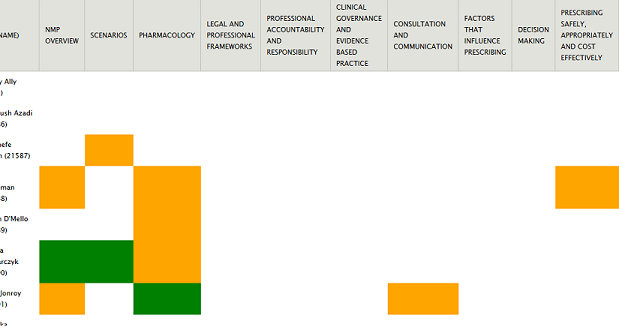 2.Download in a spreadsheet
Click on 'Manage Organisations'. Click on 'Download Skills Report CSV'. You will then be able to save the file as a spreadsheet.
Full Guidance
Click on the link below to access full documentation on the various functionalities of the site.